Software for planning lab budgets across multiple grants.
Designed by and for the grant-funded community.
Open Spendlab See a sample budget Watch the video Resources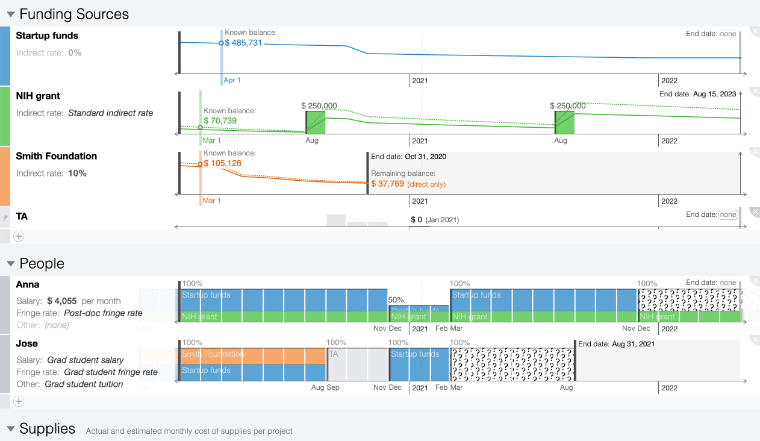 Most grant reporting tools track your funding sources separately, making it difficult to see the whole picture. Spendlab fills that gap by providing a labs-eye view for tracking and exploring viable funding plans.
It started in a single lab at the University of Washington and is now used by PIs and administrators across the world to plan, manage, and communicate grant spending.
See the whole picture

See all your grants and expenses together instead of juggling spreadsheets.

Efficient interface

Click and drag to quickly add expenses and allocate them to grants.

Built-in calculations

Handle multiple funding sources, recurring payments, indirect/overhead costs, expenses that change over time, and much more.

Peace of mind

Avoid overspending and underspending. Plan for funding gaps and grant expirations.
About us
Spendlab is a for-purpose organization — more flexible than a strict non-profit, and more community-centered than a traditional business. Our purpose is to help labs make the best use of grant resources.
The idea for Spendlab arose when Robin's friend — a professor — described how much time she spent paging through spreadsheets and documents just to answer simple questions about her lab's budget. Together, we designed Spendlab with the goal of minimizing the amount of time it takes to input data, modify spending plans, and understand the whole lab's financial status at a glance.
Robin Stewart
(Founder)
Robin is a software developer based in the Seattle area. Previously he designed data visualization tools at Tableau Software and studied human-computer interaction at MIT. His research combines direct manipulation and data visualization techniques to make numbers easier to use.
Lisa Stachura
(Associate)
Lisa is passionate about helping people get the most out of the products they use. She leads training and customer support at Spendlab and has many years of experience in a variety of customer-facing roles. She is a graduate of Michigan State University.
Alan Sun
(Intern)
Alan is a Computer Science and Statistics major at Williams College. He joined Spendlab because of his interests in software development as well as UI/UX design, and later hopes to find a career working in the tech space.

Lily Levin
(Intern)
Lily is an Economics and Comparative Literature major at Williams College. She joined Spendlab to further explore her interests in problem-solving and market research.

Anh Nguyen
(Intern)
Anh is a computer science and mathematics major at Williams College. She is interested in software development and hopes to build a career in tech.

"It actually makes budgeting fun… I didn't think I would ever say that."
-Assistant Professor, University of Washington
Pricing & Longevity
Spendlab's operational model is designed to ensure that the software remains available over the long term. Yearly licenses support ongoing development, while low operating costs and no venture capital greatly reduce financial pressure.
Spendlab includes a 3-month free trial to give you plenty of time to try it out. After that, you will need a yearly license to save new versions of your budget files. Price levels are based on feedback from faculty and administrators with the goal of being fair, affordable, and ensuring that Spendlab continues to remain available.
$150 per year — labs with less than $250,000 in annual direct costs
$250 per year — labs with less than $1 million in annual direct costs
$400 per year — unlimited budget size and priority new feature requests
If you have feedback, would like to request free or alternate pricing for special circumstances, are purchasing for a department, or have any other requirements, please just let us know.
Other ways to help
Use Spendlab with colleagues. This helps the software become a standard tool in your department.
Share your success stories. How has Spendlab impacted your budget planning or benefited your lab or department?
In any case, please join the email list below to let us know you're interested and to get notified when we add new features. (Average two emails per year, and of course you can unsubscribe at any time.)
Join the community
Get notified of important updates by joining our rarely-invoked mailing list. (Average two emails per year.)
(Unsubscribe at any time. We will never sell or share your email address or any other personal information.)
Privacy and security
Your budget files never travel over the internet, even though the Spendlab software operates in a web browser. All calculations are done on your own computer using modern client-side web technology.
When you click the "Save" button, your budget file is downloaded directly to your computer as a .slb file ("spend lab budget") — so you can store it however you'd like or share it with colleagues.
Spendlab also tries to autosave your most recent budget file in your web browser's local storage as a backup. You can disable this feature by browsing in "private" or "incognito" mode.
About the name
The software allows you to quickly experiment with strategies for spending your grant money most effectively, so it's a type of "laboratory" for making spending decisions — a "spend lab".
It's also commonly used by scientific lab groups for their budget planning, so the name can be seen as describing the software as "spend" planning for "labs".
Try it out
Spendlab is simpler to use than it is to describe. The best way to get a sense of it is to just use it.